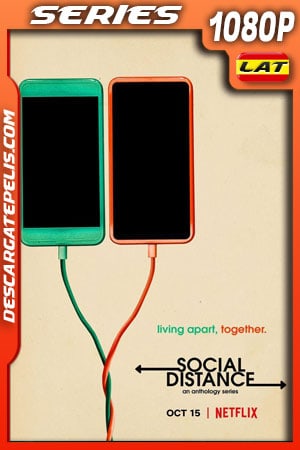 Distanciamiento social (2020) Temporada 1 1080p WEB-DL Latino

---
Grabada durante el confinamiento debido a la COVID-19, expone las luces y las sombras de los intentos de los personajes por mantener el contacto a distancia.
Título original

Social Distance (TV Series)

Año

2020

País

Estados Unidos

Dirección

Anya Adams, Phil Abraham, Angela Barnes Gomes, Jesse Peretz, Nick Sandow, Claire Scanlon, Diego Velasco

Guion

Tara Herrmann, Brandon Martin, Hilary Weisman Graham

Música

Jonathan Sanford

Fotografía

Mark Schwartzbard, Alison Kelly, Pedro Luque

Reparto

Asante Blackk, Ali Ahn, Brian Jordan Alvarez, Gianna Aragon, Leo Bai-Scanavino, Shakira Barrera, Danielle Brooks, Luca Costanzo, Tom Costanzo, Guillermo Díaz, Isabella Ferreira, Aidan Foley, L.J. Foley, Matthew Furfaro, Olli Haaskivi, David Iacono, Max Jenkins, Lydia Look, Ayize Ma'at, Ajay Naidu, Anthony Norman, Oscar Nuñez, Kylie Goldstein, Camila Perez, Rana Roy, Daphne Rubin-Vega, Miguel Sandoval, Peter Scanavino, Lovie Simone, Peter Vack, Zoë Verbil

Productora

Distribuida por Netflix

Género
Audio: Español Latino E-AC3 5.1 – Ingles E-AC3 5.1
Subtítulos: Español,Forzado,Ingles + Multisubs
Calidad: WEB-DL 1080p
Resolución: 1920×1080
Formato: MKV
Temporada: 01
Capitulos: 08
Tamaño c/u aprox: 617 MB – 1.31 GB | 8.32 GB
Códec: H.264
Servidores: Google Drive – Mega – Uptobox
Social Distance | TV Series (2020– )
Comedy, Drama | TV Series (2020– )
Summary: Shot in isolation, this tragicomic anthology series features both dark and funny takes on how people strive to stay connected while staying apart.
Countries: USALanguages: English