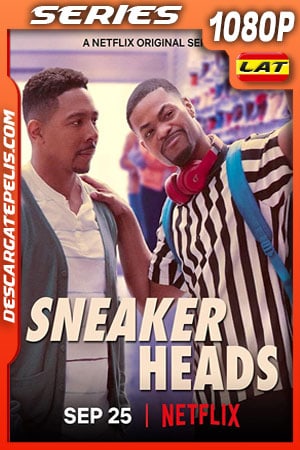 Sneakerheads (2020) Temporada 1 1080p WEB-DL Latino

---
Devin es un padre de familia que vuelve a obsesionarse con las zapatillas gracias a su mejor amigo Bobby, que lo tienta con un mítico par de deportivas.
Título original

Sneakerheads (TV Series)

Año

2020

Duración

23 min.

País

Estados Unidos

Dirección

Guion

Jay Longino, Jason Belleville, Carl Tart, Kara Brown, Inny Clemons, Rose McAleese

Música

Haim Mazar

Fotografía

Scott Cunningham

Reparto

Andrew Bachelor, Jearnest Corchado, Matthew Josten, Allen Maldonado, Yaani King, Justin Lee, Aja Evans, Aitana Rinab, Brian Baumgartner, Robert James Beddall, Isaac Cheung, Chris Coppola, Phillip Garcia, Nick Heyman, Wesley Kimmel, John T. Lee, Bonn Liang, Kyrie Mcalpin, Amari O'Neil, Jahdai Pickett, Ivana Rojas, Jay Seals, Zach Selwyn, Conor Sheehan, Danielle Shipp, Jon Sklaroff, Maurice G. Smith, Ken Sorrell, Marilyn Tokudo, Lavar Walker, Austin Woods, Raquel Davies

Productora

Distribuida por Netflix. Complex Networks, Emjag Productions, Haven Entertainment, Indigo Development & Entertainment Arts, Olive Bridge Entertainment

Género

Web oficial
Audio: Español Latino E-AC3 5.1 – Ingles E-AC3 5.1
Subtítulos: Español,Forzado,Ingles + Multisubs
Calidad: WEB-DL 1080p
Resolución: 1920×1080
Formato: MKV
Temporada: 01
Capitulos: 06
Tamaño c/u aprox: 845 MB – 1.21 GB | 5.97 GB
Códec: H.264
Servidores: Google Drive – Mega – Uptobox
Sneakerheads | TV Series (2020– )
Comedy | TV Series (2020– )
Summary: Devin, a former sneakerhead turned stay-at-home dad, finds himself deep in the hole after falling for one of old friend Bobby's crazy schemes. To get his money back, the at-odds duo goes on the hunt for the most elusive kicks in the game.
Countries: USALanguages: English